figure A



figure B
















































Boulevard Gardens

Home & Garden TV Feature
Article reprinted from hgtv.com


Claiming he lives "in a garden with a house attached to it," Jim Handtmann of Minneapolis transformed every inch of his small ordinary yard into a series of distinct, magical places to unwind.
Starting in the back (figure A) several years ago, Jim's garden moved to the sides and front of his home, then across the sidewalk into the little, often-neglected strip at curbside (figure B). The flower-filled boulevard garden has caused a turnaround in his neighborhood, changing it from a declining, impersonal atmosphere to one of activity and caring.

"I think boulevard gardening is a very powerful thing," says Handtmann, "because it gets people out of their houses and into the front of their yards where they can talk with their neighbors and keep track of the neighborhood."

Handtmann has a whimsical side that nudges him to incorporate unique objects he's found or made or been given by friends (figures C and D).

When Handtmann moved in, he had a concrete patio and sidewalk in the back that were sinking and breaking up. He took them out and put in a pond and stream (the plastic for these came from houses getting new roofs), and a deck and walk (made from wood that came from fences he noticed were being torn down).

He built a circular focal point, anchored by a fountain (figure E), using rocks that came from construction sites (figure F) and plants that were bought on sale; in fact, the most Handtmann has ever spent on his garden at one time is $15. Keeping his costs down this way allows Handtmann to experiment with various plantings and garden elements.

Handtmann shuns plans and themes in favor of spontaneity and prefers to describe his garden this way: "It's not English. It's not real Japanese. It's just jam-packed with everything that I can put in here." On his trellis (figure G), for instance, he plants wisteria, clematis and climbing rose. "They kind of decide themselves which one is going to flourish there."

Handtmann transformed one corner of his back yard using tires filled with sand to create a natural landscape that includes small mountains with waterfalls. Picture what nature has done with rocks and twigs, he says, and try to make the garden look natural instead of like a man-made thing. "Would I call this a putzing garden? Yes, absolutely. That's all I do is putz. I've driven people nuts because I can't sit down for more than 10 minutes. There's always a pot that has to be turned, there's always a rock that has to show more, there's always a branch that has to be tied over."

When Handtmann had finished with his back and side yards, he turned the front yard into a sitting area--actually he calls it a "nosy neighbor lookout."

From his lookout, Handtmann could see his neighborhood going into decline, and it was then that he decided to turn several blocks of the boulevard (the narrow slice of land between the sidewalk and street) into gardens. Consequently, neighbors came out of their houses and starting talking to each other, children came out to play, some people even started their own gardens.

Be sure to check with the city you live in about any regulations regarding the height of plants and flowers near the street, advises Handtmann, and do what you can to make the garden "child-proof." If blooms are too showy, they'll be stolen!

Throughout his gardening experiences, Handtmann's philosophy has remained simple and laid-back: "If you think it's work, don't do it. If it's gonna be a pain, don't bother. If you're gonna have somebody else do it, why bother?" He believes the garden is there for one simple reason: to enjoy. "You come home after work and you just putz around in your garden and all the stress leaves."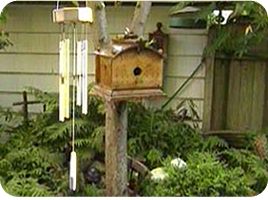 figure C



figure D



figure E



figure F



figure G




Before...



After